Chip Herr Memorial Lecture
Hang on for a minute...we're trying to find some more stories you might like.
For the Sept. 14 Chip Herr Lecture, Fort Worth Country Day brought in Alex Sheen, founder of "because I said I would.". "[It's a] social movement and nonprofit dedicated to the betterment of humanity . . . we make and keep promises to end suffering, establish peace and build happiness," Sheen said.
The organization's mission, as stated on their website, is "to strengthen humanity's will." They do this by sending out promise cards for people all over the world at no cost to those writing them. Many of these promise cards have made headlines around the world. The process is very simplistic: all you have to do is contact the organization and request a package of 10 free promise cards and once you have written your promise you can send it back to the organization with the location you would like to send it to and "because I said I would." will send them at no cost to you.
Sheen was here as part of the sixth annual Captain David R. "Chip" Herr, Jr. '80 Memorial Lecture. Bill Arnold '86, Head of Upper School, started these lectures because Country Day didn't have a professional lecture series at the time. Arnold is also friends with Connie Herr, Chip Herr's mother, and felt that it was important to honor the only graduate from FWCD to die in active duty.
Colonel Parker Schenecker '80, a friend of Herr while he was at FWCD and in the military, attends the memorial lecture every year to listen to the stories and speeches of other exceptional people. Schenecker also founded the Calyx and Beau Schenecker Memorial Fund in memory of his children. This foundation helped pay for this year's speaker to come to FWCD. Schenecker became very involved with an organization called "because I said I would." and will soon be taking a position in a new chapter in one of their programs called "Echo." This chapter will work to spread the organization's reach around the world.
Many people enjoyed Sheen's lecture because it appealed to all age groups and had an emotional message. One such message was "the power of promise making and promise keeping," Arnold said. Students and parents from all over the FWCD community came to watch this lecture in memory of Chip Herr as well as to learn more about a strong organization.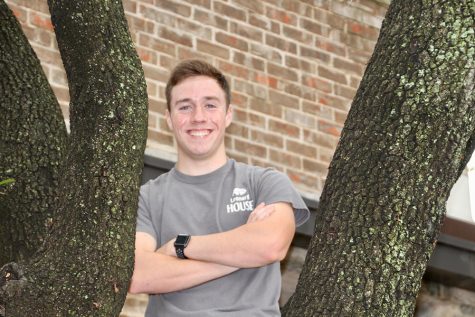 Nate Wallace, Online Editor-in-Chief
Nate is a senior this year at Fort Worth Country Day and plays three sports for the school: cross country, soccer, and lacrosse. He started going to FWCD...