FWCD Hosts Medal of Honor Recipients
Hang on for a minute...we're trying to find some more stories you might like.
On October 21, Fort Worth Country Day students, faculty, and staff were honored with visits from two Medal of Honor recipients: U.S. Army Sgt. Sammy L. Davis and U.S. Army Staff Sgt. Ty Carter. Sgt. Davis and Sgt. Carter spoke of patriotism and the experiences that led to them receiving the highest military honor in the United States.
Ty Carter received the Medal of Honor on August 26, 2013. Although Carter was very humble when recalling his time serving his country, his Medal of Honor action was gallant as well as above and beyond the call of duty. According to the Congressional Medal of Honor Society, while on his first deployment to Afghanistan, Carter was based at Combat Outpost (COP) Keating in Kamdesh District, Nuristan Province. On October 3, 2009, Carter's post was besieged and Carter became a distinguished hero of what came to be known as the Battle of Kamdesh. The COP Keating had been surrounded and attacked by 300 combat enemies on higher ground. While under a barrage of fire, Carter carried ammunition 100 meters and voluntarily remained there to defend the isolated position. Over the course of several hours, Carter shot fatal fire in order to prevent his position from being overrun. While injured, Carter ignored his own injuries and ran through a storm of enemy rocket propelled grenades and machine gun fire to save an injured soldier who was in an exposed position. Carter gave the soldier first aid extending his life and carried him to cover. Carter then recovered the squad's radio and he was able to coordinate an evacuation for his fellow soldiers. After calling for help, Carter was able to carry the injured soldier 100 meters to a first aid station and then returned to the fight. Without regard for his own safety, Carter's tactical and bravery prevented the enemy from capturing the position and he saved the lives of his fellow soldiers. Carter's actions were an example of the highest traditions of military service.
After Carter's speech, Carter presented Sgt. Sammy L. Davis as the real "Forrest Gump." Gump's Medal of Honor actions were based on Davis's real experience. In the movie the footage of President Lyndon B. Johnson presenting Gump with the Medal of Honor is actually Sgt. Davis, with Tom Hanks's face superimposed over Davis. Davis spoke to the Upper School students about his time in Vietnam and about the background to his harmonica. The harmonica was a gift from his mother, while he was serving in Vietnam, in hopes that he "would not be so bored." Davis played "Shenandoah" for the students and told them how his sergeant, Johnston Dunlop, requested that he learn the song.
 "Sgt. Dunlop would say it brought hope back to his soul. I hope this brings you hope,"Davis said.
 Davis played "Shenandoah" for his sergeant at the Vietnam Veterans Memorial (Panel 50E, Row 13). Davis continues to play for the troops. 
 "His delivery of Shenandoah and the story behind it was very emotional and heartwarming," Edward Martin '17 said.
 Davis ended his speech by giving the Upper School some wisdom, "You do not lose until you stop trying."
The FWCD Upper School also had the pleasure of hosting Gary Linfoot and country music star Phil Vandel. Linfoot served in Iraq and in 2008 his helicopter crashed as a result of mechanical failure. He was left paralyzed from the waist down. Linfoot is now able to walk, with the help of a full-body exoskeleton by California-based Ekso Bionics. Vandel sang "What soldiers do."
"The speeches were very inspiring, special and moving,"  Alex Sanchez '17 said.

About the Contributors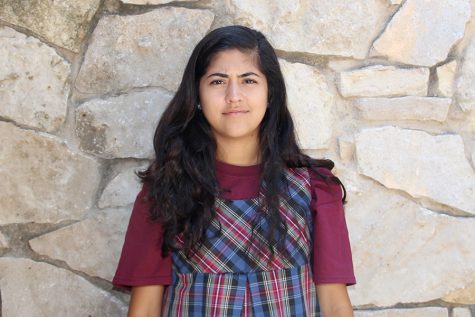 Brianna Ordonez, Ads Editor
Brianna Ordonez is a senior at Fort Worth Country Day. She is the Ads Editor and this is her fourth year on the Falcon Quill staff. Ordonez plays field...
Lisa Wallace, Adviser
Lisa Wallace is in her 5th year as adviser to the Falcon Quill Online, 14th year as adviser to Falcon Quill, and 18th year as adviser to Flight and as...