ISAS Coffee House Preview
Hang on for a minute...we're trying to find some more stories you might like.
The ISAS Fine Arts Festival will take place the week of April 12-14 at Hockaday in Dallas. One of the many events to be seen at ISAS is the acoustic coffee house. Throughout the school year, Allie Arnold '18 has organized the FWCD coffee houses on campus. Many of the performers from the on-campus coffee houses will perform at ISAS as well. A few acts to look forward to include those of Domi Madrid '18 and Sarah Morton '18, Bailey Melton '16, and Arnold herself.
Madrid and Morton will be performing "Landslide" by Fleetwood Mac. Madrid learned to play the guitar over the summer and knew Morton has both an acoustic guitar and a good singing voice. Morton and Madrid quickly joined forces and performed in the past winter coffee house, where they played "I'm Yours" by Jason Mraz.
"I enjoy performing for once. I usually only do ceramics, which is rather hidden. Coffee House allows me to perform in front of an audience instead of simply displaying my pots," Madrid said.
Director of Fine Arts Denise Mullins solicited Arnold to head the Coffee Houses because Arnold performs at every ISAS and knew she was a good planner and organizer. Arnold will be performing "Read My Mind" by The Killers. She played it at the last Coffee House this past winter, but plans to work on it even more in preparation for ISAS. Arnold will sing and play the acoustic guitar.
"I am really enthusiastic about music and performing because it provides a great way for the community to connect," Arnold said.
Arnold loves her song choice because she relates to it being in a relationship and hopes her audience will find this same connection when she performs.
Bailey Melton '20 will also be performing at the ISAS coffee house. She performed last year, so this is her second coffee house. She will sing and play the acoustic guitar. Melton taught herself to play the guitar by watching a myriad of YouTube videos and practicing daily. She will be playing "Lonely Girl" by Symon. Melton will also perform in the musical showcase at ISAS.
"Come watch me perform," Melton said.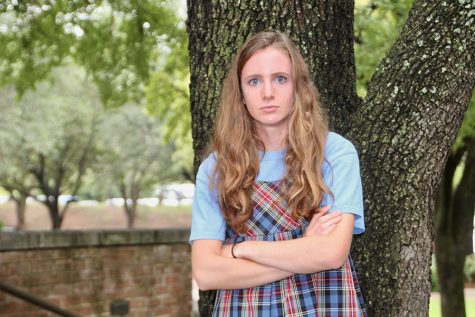 Christina Kelly, Editor in Chief
Christina Brooks Kelly. She has climbed her way to the top, landing her fourth and final year on the Falcon Quill as the editor in chief. Kelly can be...