Students Make Use of New Automatic Doors, Thanks to Parent Donation
While students and teachers may not be on campus during spring break, Plant Ops is always making improvements to our campus. Over four days in mid-March, two people installed eight doors compliant with the Americans with Disabilities Act of 1990 in the Martin Center, the Moncrief Library, the Round Gym, as well as several other buildings. These doors automatically open with the push of a wheelchair accessible button.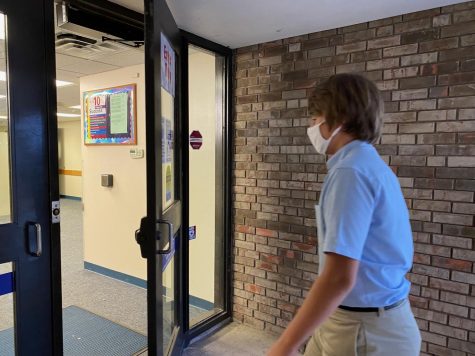 This project began with a donation from Jennifer Bethea and her son, Brock Bethea '23. The Bethea family has a relative with mobility issues and was looking for a way to make a positive change in the FWCD community.
"Mrs. Bethea approached me wanting to help with accessibility needs throughout campus," Tom Mitchell, Chief Financial and Operations Officer, said.
Mitchell, like the Betheas, is always looking for ways to make the campus more accessible.
"Capital projects are always a balance of competing priorities, so when a donor can fund a need like this, it really has a compounding effect. Not only do we receive the immediate benefit of their gift, but it allows us to reallocate funds to other priority needs," Mitchell said.
 He hopes to update the visitor bleachers at Rosacker Stadium soon.
"We are so grateful to the Bethea family and their thoughtful and caring gift," Mitchell said.
These modifications to the doors may not seem like a big deal; however, they play a big role in everyday life for a person with a physical disability. One Upper School student whose life is impacted every day by these new doors is Matthew O'Brien '24. In mid-August, O'Brien was in a Jet Ski accident, which resulted in a broken heel. He has been rolling into school every day on his Knee Scooter and with an orange cast on his left foot. Because of this, he is very excited about the new doors.
"They make my life more convenient," O'Brien said.