Harrison Kemmer Picks the First Round of the 2021 NFL Draft 
Tune in Thursday for the First Round in Cleveland
It's that time of year again. The NFL Draft, this year in Cleveland, Ohio, is just around the corner with many intriguing possibilities as always. Hopes and dreams are about to be realized and all the players' hard work will finally pay off as they get to the league. And hey, vaccinated fans are going to be welcomed to the draft this year. Last year at this time I was writing about all the COVID-19 policies for the draft, the big one being that the draft was virtual. But this year, some players will be in person at the draft in their fancy suits and Roger Goodell will be able to be booed in person. That may be the best news of all. 
Now to the big prospects and fun storylines to watch heading into the draft. Trevor Lawrence, Zach Wilson, Justin Fields, Mac Jones, and Trey Lance are the big five quarterbacks this year. This class is shaping up to be similar to the 2018 NFL Draft, in which five excellent college quarterbacks were headlining their class as well. Lawrence, Fields, and Jones are known to football fans everywhere , but the more casual fans may not have seen Wilson or Lance play in college. 
Wilson is a 6' 2", 213-pound quarterback from BYU. He has insane accuracy, as he completed 73.5 percent of his passes last year, and is very smart with the football. He had a touchdown to interception ratio of 11 to 1 last year. He is also quite mobile, as he ran for 10 touchdowns to go along with his 33 passing touchdowns in 2020. The big question with him is where is his ceiling. I personally think his ceiling is extremely high, but with his drastic improvement from 2019 to 2020, I wonder if he has reached that ceiling already. 
Lance is a 6' 4", 224-pound quarterback out of North Dakota State. He has the best decision making out of any QB prospect in the past few years, as he threw 30 collegiate touchdown passes and only a single interception. His showcase game in October was not very impressive from a passing standpoint, but he showed why he is a top prospect as he ran for 143 yards and two touchdowns while leading the Bisons to victory. The question with him is about the quality of play that he faced in college. Coming from a FBS school, he hasn't faced the top prospects in the draft, but, as an NDSU fan I may be somewhat biased here, but I think that is a non-issue. Former NDSU QB Carson Wentz made the jump from FBS to the NFL seem effortless. He was on pace to win league MVP in his second season. 
The Dallas Cowboys have a very interesting draft situation with many different possibilities. First off, Dak Prescott is now signed for at least the next four years, so the team doesn't have to think about drafting a quarterback this year. They do need to think cornerback, defensive line, safety, and linebacker though. That is literally the entire defense. The defense was completely awful last year (that could be attributed to Mike Nolan's pitiful defensive scheme). New defensive coordinator Dan Quinn has defensive end Demarcus Lawrence and cornerback Trevon Diggs to build around. 
The Cowboys have the 10th pick and could trade back with the New England Patriots, as the Patriots are possibly looking to trade up for a quarterback. In that scenario the Cowboys could take the number two or three CB's in the draft, Jaycee Horn or Caleb Farley. If they choose to stay at 10th in the draft, they would hopefully be able to draft the best CB in the draft, Patrick Surtain II. Dallas has been shown a lot of interest in tight end Kyle Pitts and offensive tackle Penei Sewell. They would have to trade up to get either of these players most likely, and while I am a big fan of these players, neither would address the needs on the team. Yes, I know that the offensive tackle position has been injury-prone for the Cowboys, but this year's draft is extremely deep for lineman, so they could draft a high value prospect in the second or third round. 
Kemmer's Mock Draft (with trades)
1. Jacksonville Jaguars – Trevor Lawrence, QB, Clemson, 6' 6", 213 lbs 
The most-hyped quarterback prospect since Michael Vick goes to the Jaguars. They can't miss with this pick. Lawrence threw for 10,098 yards in college and 108 total touchdowns. He is extremely smart with the football, as he only threw 17 interceptions in college, and he will bring a winning mentality to a franchise that hasn't been to the playoffs since 2017-18 NFL season. Lawrence and new head coach Urban Meyer will make a dynamic duo for the ages. 
2. New York Jets – Zach Wilson, QB, BYU, 6' 2", 214 lbs
The 2020 breakout season from Wilson lands him at the #2 spot in this year's draft. The job here will be his from the start, as Sam Darnold was traded to the Carolina Panthers earlier in the year. New head coach Robert Saleh gets a gem here, as the QB threw 33 touchdowns and only three picks last year. 
3. San Francisco 49ers (via Miami) – Mac Jones, QB, Alabama, 6' 3", 217 lbs
Here is where things get interesting. The 49ers could take Trey Lance here, but they get the QB out of Alabama. He led college football in passing yards with 4,500 and was 2nd in passing touchdowns with 41. Head coach Kyle Shanahan will have a chance to mold Jones into the 49ers quarterback of the future. 
4. Atlanta Falcons – Justin Fields, QB, Ohio State, 6' 3", 227 lbs 
The Falcons will not trade back. They will not draft defense in this spot. They will draft Matt Ryan's successor. Fields is the toughest QB in the draft, as he threw two 50-plus-yard touchdown passes with a hip pointer in the playoff semifinals. He will have a chance to learn under Ryan for a couple years, and he will have the chance to know new head coach Arthur Smith's offense like the back of his hand. 
5. Cincinnati Bengals – Penei Sewell, OT, Oregon, 6' 5", 331 lbs
Joe Burrow has said that he wants his receiver from his LSU days, Ja'Marr Chase. Burrow has also said he trusts the Bengals drafting process. The Bengals process should be Sewell here. Smokin' Joe Burrow is the future of the franchise, and coming off an ACL tear he needs to be protected. Sewell would be a great place to start as he has allowed just one sack in 1,376 snaps. 
6. Miami Dolphins (via Philadelphia) – Ja'Marr Chase, WR, LSU, 6' 0", 201 lbs
Chase won't be waiting long after the Bengals pick before he gets drafted. Tua Tagovailoa will have a new weapon to go along with DeVante Parker, Will Fuller V, and Mike Gesicki. Chase had 1,780 receiving yards and 20 receiving touchdowns in 2019, as he opted out of the 2020 college football season. Chase will hopefully be able to help with Tagovailoa's learning process as a QB in the NFL.
7. Detroit Lions – Kyle Pitts, TE, Florida, 6' 6", 245 lbs
New head coach Dan Campbell will have the best tight end duo in recent history with T.J. Hockenson and Pitts, if he can get him here. Pitts could very well end up in Miami, but I feel that Miami will bolster its receiving core with Chase. Pitts averaged 17.9 yards per reception last year and had three multi-touchdown games for the Gators last year. His ability to create mismatches everywhere will give new Lions QB Jared Goff his favorite target in his NFL career. 
8. Carolina Panthers – Rashawn Slater, OT, Northwestern, 6' 4", 304 lbs 
Slater would be a much needed boost for an offensive line that needs some serious work. Pat Eflein at right guard is the strongest piece on the line, and Slater could come in and provide instant protection for newly acquired QB Sam Darnold. Slater allowed one QB hit and no sacks in 2019 (11 games), while running a 4.91 40 yard dash this year. 
9. Denver Broncos – Micah Parsons, LB, Penn State, 6' 3", 246 lbs 
The Broncos are going to give Drew Lock one more chance as the franchise QB. As a result of that, they can bolster their defensive line that lost edge rusher Von Miller. Parsons is a very dynamic linebacker that can rush the passer and drop into pass coverage. The linebacker from Penn State had five sacks and four forced fumbles in 2019 (he opted out of the 2020 season). 
10. Mock Trade Between Dallas and New England, New England Patriots – Trey Lance, QB, North Dakota State, 6' 4", 224 lbs
The Patriots trade up to get their guy, which is unusual for head coach Bill Belichick. Lance will not be available at pick 15, so New England has no choice but to trade up here. He is a QB that will definitely face some adversity, but has a chance to be one of the great picks in this draft. He threw for 28 touchdowns and no interceptions in 2019, to go along with 2,786 passing yards. The Bison QB also ran for 14 touchdowns and 1,100 yards. 
11. New York Giants – Devonta Smith, WR, Alabama, 6' 0", 170 lbs
12. Philadelphia Eagles (via Miami) – Jaylen Waddle, WR, Alabama, 5' 9 ½", 180 lbs 
13. Los Angeles Chargers – Christian Darrisaw, OT, Virginia Tech, 6' 5", 322 lbs  
14. Minnesota Vikings – Patrick Surtain II, CB, Alabama, 6' 2", 208 lbs
15. Mock Trade Between Dallas and New England, Dallas Cowboys – Jaycee Horn, CB, South Carolina, 6' 1", 205 lbs 
The Cowboys get the second best corner in the draft, as Surtain II got taken the pick before. Horn had two interceptions and six passes defended this year. He would be able to fill the hole that Chidobe Awuzie left by leaving in free agency and Horn will fit well with Trevon Diggs.
16. Arizona Cardinals – Alijah Vera-Tucker, OG, USC, 6' 4 ½", 308 lbs 
17. Las Vegas Raiders – Kwity Paye, EDGE, Michigan, 6' 2 ½", 261 lbs
18. Jeremiah Owusu-Koramoah, LB, Notre Dame, 6' 1 ½", 221 lbs 
19. Washington Football Team – Samuel Cosmi, OT, Texas, 6' 6", 314 lbs 
20. Chicago Bears – Rashod Bateman, WR, Minnesota, 6' 0", 190 lbs 
21. Mock Trade Between Indianapolis and Pittsburgh, Pittsburgh Steelers – Najee Harris, RB, Alabama, 6' 1", 232 lbs 
The Steelers trade up here knowing that the Jets could take Harris with the 23rd pick. Harris is a hard nosed running back with amazing agility and speed.
22. Tennessee Titans – Azeez Ojulari, EDGE, Georgia, 6' 2", 249 lbs 
23. New York Jets (via Seattle) – Caleb Farley, CB, Virginia Tech, 6' 2", 197 lbs 
24. Mock Trade Between Indianapolis and Pittsburgh, Indianapolis Colts – Kadarius Toney, WR, Florida, 6' 0", 193
25. Jacksonville Jaguars (via LAR) – Trevon Moehrig, S, TCU, 6' 1", 202 lbs 
26. Cleveland Browns – Zaven Collins, LB, Tulsa, 6' 5", 259 lbs
27. Baltimore Ravens – Terrace Marshall Jr., WR, LSU, 6' 2 ½", 205 lbs 
28. New Orleans Saints – Christian Barmore, DT, Alabama, 6' 4", 310 lbs 
29. Green Bay Packers – Jaman Davis, LB, Kentucky, 6' 3 ½", 234 lbs 
30. Buffalo Bills – Pat Freiermuth, TE, Penn State, 6' 5", 251 lbs 
31. Baltimore Ravens (via Kansas City) – Elijah Moore, WR, Ole Miss, 5' 9 ½", 178
32. Tampa Bay Buccaneers – Joseph Ossai, EDGE, Texas, 6' 4", 256 lbs  
About the Writer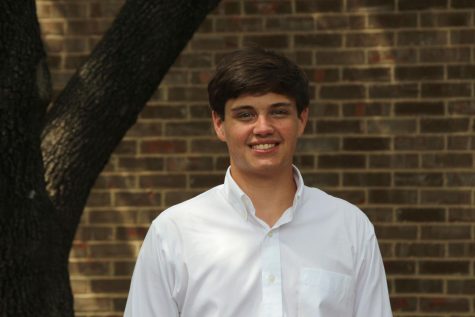 Harrison Kemmer, Sports editor
Harrison Kemmer is a junior at FWCD. He has a brother in fourth grade and two dogs. He likes playing basketball and lacrosse, and loves watching football....