FWCD Basketball Team Honors Faculty and Staff
It takes a lot of hard work for Fort Worth Country Day to operate so smoothly. Although appreciation is hard to come by, those who dedicate themselves to FWCD must be given recognition for their hard work. Not frequent enough does the FWCD student body take time out of their day to say thank you and appreciate those who strive to improve the school daily. 
Director of Breakthrough and Varsity Boys Basketball Coach Joe Breedlove '78 noticed that he had a unique opportunity to incite positive change through recognition and appreciation. Once a year, each FWCD basketball player and manager selects someone from the FWCD faculty and staff to show their gratitude by dedicating a day to them.
"It was just another way we felt we could show our love and appreciation for our esteemed faculty and staff here at FWCD," Breedlove said.
On Friday, December 10, 2021, the FWCD Varsity and JV Red Basketball teams went head to head with the Carter-Riverside Eagles, while the FWCD JV Blue played Covenant Classical School. Before tipoff, the distinguished faculty and staff joined the FWCD basketball players in the center of the court, dressed in their respective player's "away" jerseys. Breedlove, speaking on behalf of the FWCD Basketball Program, delivered a heartfelt speech regarding the importance of giving back to those who dedicate their lives to growing compassionate, thoughtful students.
"I like being appreciated," Upper School science teacher Christy Alvear said "It's an honor."
After the ceremony concluded, the faculty and staff returned to the bleachers to watch their students' games.
"It's always fun getting to watch the kids play," Upper School Science teacher Stephen Dickey said.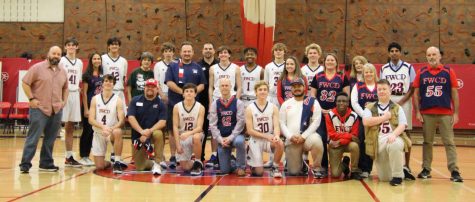 Although the FWCD JV Blue team suffered a heartbreaking 36-31 loss to the Covenant Classical School, the JV Red team defeated Carter-Riverside, 46-23. The FWCD Varsity team electrified fans twofold by crushing the Eagles, 66-35. With a clean sweep of the Carter-Riverside Eagles, each player showed their gratitude by playing their hardest and leaving everything out on the court.
"Thank you to all the faculty and staff for all the hard work that they put in for us students," Klement Rix '24 said.